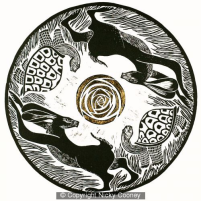 In Aesop's fable of "The Hare and the Tortoise", Hare looks down on Tortoise as slow and modest, and boasts about how much better it is to be fast. Tortoise gets tired of all of this self importance and accepts the challenge to a race. They start early in the morning and Hare quickly puts some distance between him and Tortoise. But Hare is tired. He'd had to get up early to start the race, so he was already tired before they started. Figuring he still has plenty of lead over Tortoise, he lies down and takes a nap. He wakes up to find Tortoise still behind, although having covered some distance. So Hare charges off again at full force, but then he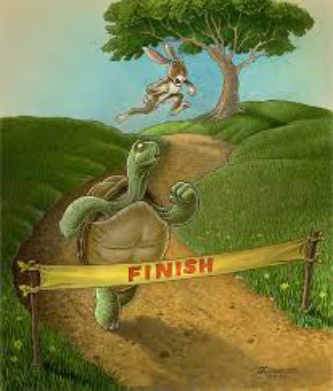 gets hungry. He stops to eat which makes him sleepy and in need of another nap. Tortoise is still behind, so Hare stops to rest again and ends up taking a longer nap. When he wakes up and goes charging off again, he finds that Tortoise has already reached the finishing post. Hare has lost the race. There is ambiguity as to the moral of the story. Certainly there is an implied judgement about being boastful and overconfident. But Hare also has an energy problem. He is tired before he even starts, so it is not surprising that he quickly gets burned out. He values speed and winning over management of energy. That is a problem. But his arrogance can also make him ignorant. Poor old Hare! He just doesn't know what he's up against!

I had a dream recently about of what looked like a large tortoise (although not quite so large as the Galapagos tortoises.) Initially I responded to this "tortoise" as comfortably slow and steady, and quite benign. But then it barked and started moving at a furious rate. It had legs like a centipede. Charque informed me in the dream that it was not a tortoise but an extremely aggressive creature with a venomous bite or sting. It chased us into our vehicle. In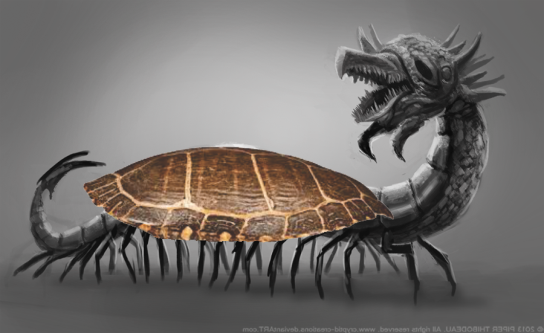 exploring the dream next day, I found this creature to be the shadow side of Tortoise, with anger toward and attack on the "slow and steady" of life, both within myself and within the culture as a whole. We humans are a very driven race, intent on accomplishment, on fixing and solving, on saving whomever or whatever we think needs saved, even the world itself. We get very uncomfortable, frustrated and angry, guilty even when we see life not moving forward as we think it should. "Hare" is definitely valued in our culture over "Tortoise", at least until we get so tired and burned out we can't do any more.

In our early metaphysical days in the US, we were part of "The Aquarian Bookstore" in New Kensington, a spiritual centre which had various group activities, classes and meditation going on there, as well as, of course, books. This was started by a rather remarkable lady, called Joyce Forbes. Joyce had spun off from the A.R.E. (the Association for Research and Enlightenment, better known as the Edgar Cayce organization). She was a spiritual entrepreneur and a catalyst to new ideas and practices. She also galvanized others to do the same. We suggested an I Ching group in the bookstore. She told us to start it. We did. But despite Joyce's "calls to action", she possessed and taught a concept and knowledge of "God's way" as much slower and tending to circumnavigate any human concept of movement and progress. She used to say that the human tendency is to connect A to B in the (seemingly) shortest way with a straight line."God's Way" on the other hand went "wiggle, wiggle, wiggle", back and forth, much like a dog on an afternoon walk with its humans.


Charque's example of this same seeming circuitry in life is with plane routes from New York to London. If you look at a map and draw a straight line between New York and London, you will find that it is not the route that planes take. They fly northward over Canada and then across the Atlantic. This northerly route only looks longer to the flat-earth, two-dimensional mind which fails to account for the curvature of the earth. In fact, this northerly route is, of course, much shorter because the third dimension has come into play. So what happens when fourth, fifth and sixth dimensions come into play? Physics says there are eleven dimensions. Shouldn't this make us a little more thoughtful and less driven by our concepts of movement and progress? Straight lines, as we define them, are not always the most direct route. "Wiggle, wiggle, wiggle" might just be accounting for other dimensions that our limited human minds are not aware of. Trying to fight fourth, fifth and sixth dimensions with limited understanding can be an exhausting process. Hence the problem of Hare, who is trying to push through life according to his own will and judgement, and then gets burned out in the process.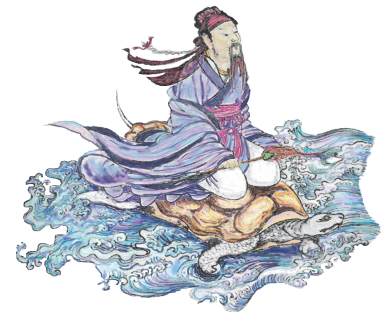 In the Taoist wisdom that lies behind I Ching, the world rests on the back of a tortoise. In Ted Andrew's Animal Tarot, the World card is represented by the Tortoise. Tortoise is slow and steady which matches the purpose and vibration of the Earth. Evolution itself is a slow process. Edgar Cayce reputedly said that the three dimensions of the physical world are time, space and patience. Do not try to overreach these conditions! Do not forget that this is just the tip of the iceberg and that there are other dimensions and other levels of being. Dig deeper into the fabric of life and where life springs from, where your feelings, thoughts and experiences have their origins. Your body is a vehicle. The physical earth is your platform for this vehicle. You are a soul; you have a body, not the other way round. The world itself is not primary or causal. It is the result or product of higher dimensions, of Soul or Mind or Higher Mind. Explore your mind, others' minds, as well as the collective mind in order to understand the dramas that each and every one of you is creating. Call on those manifestations of higher dimensions that you are familiar with: Angels, Guides, Totems, and Spiritual Teachers. They can help you to move past your limited concepts and definitions of life and what it is about. The world itself is also your teacher. You learn through experience. You cannot hurry that. Be patient! Learn to move more slowly and steadily like Tortoise. You need to be in for the long haul, and not burn out too quickly!